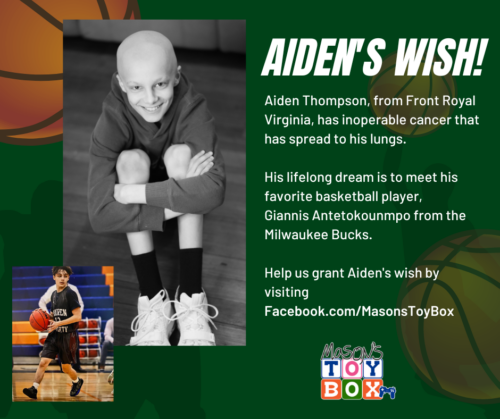 ***Mason's Toy Box Foundation is hard at work planning 'Aiden's Dream DC Weekend!' To help Mason's Toy Box Foundation lend support to Aiden and his family through this difficult journey, please consider making a donation. ***
Meet Aiden, from Front Royal, Virginia. In 2019 Aiden was diagnosed with Synovial Sarcoma, a rare soft tissue cancer, just days after his 13 birthday. Life came to a screeching halt for this young man. He had to stop going to school, and couldn't play basketball- his favorite sport.
Aiden underwent surgery on his cancerous arm, and months of toxic chemotherapy and painful treatments to eradicate the cancer. Despite everything, Aiden kept a smile on his face, and was determined to beat his cancer and get back to living life.
As soon as he could, Aiden was BACK on the basketball court- shooting hoops with his good arm. Basketball was Aiden's saving grace- anytime he felt well enough to play, Aiden was on the court. After he beat cancer, Aiden joined his high school's basketball team.
Tragically, after 3 years Aiden's family JUST learned his cancer has returned and spread throughout his body.
Aiden is now facing non-surgical, bilateral lung tumors. Additional surgery is not an option, and his family is praying for a miracle.
Aiden doesn't ask for much- but his LIFELONG WISH is to attend a Milwaukee Bucks game, and meet HIS HERO Giannis Antetokounmpo. Giannis Antetokounmpo has been an inspiration to Aiden throughout his cancer battle.
We can think of no better wish for the world's biggest basketball fan!
Mason's Toy Box Foundation is working with our friends at Samuel's Supper and The Alyssa House to send Aiden on a DREAM weekend in DC with his parents. We're working hard to secure tickets for the Milwaukee Bucks vs. Washington Wizards game THIS Sunday, March 5 at the Capitol One Arena, Washington Dc.
You can help us give Aiden a WEEKEND TO REMEMBER with his parents by making a donation.